Night Of Hope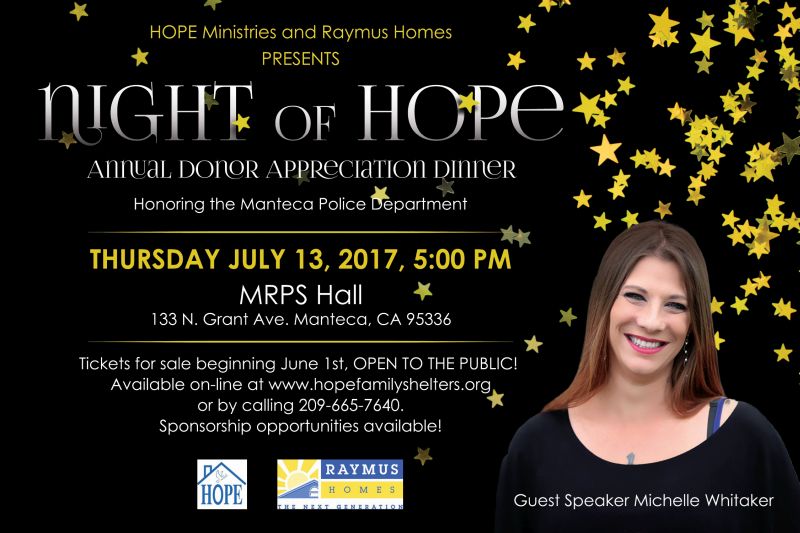 Guest Speaker and honorees
Join us for an inspirational evening of honoring those who help support the work here at HOPE Family Shelters! This year's speaker is none other than our very own Client Services Director, Michelle Whitaker. Michelle will share her heart and passion for the work she does as a former graduate of our shelter program and how she went from homeless to hero! Along with our newest program, H.E.L.P. outreach, Michelle has found herself working side by side with some of the very police officers that helped her to get her life on track, including one of her arresting officers that is now Manteca Police Departments' homeless resource officer, Officer Mike Kelly. We will also be honoring the Manteca Police department in their role of support as we collaborate in effectively changing the lives of those families that are facing displacement and homelessness in our community. Additionally we will be presenting community partners with certificates of appreciation as our church, corporate, individual and volunteer communities are the driving force behind our efforts in serving our families excellently.
The $60 ticket donation includes dinner and are considered a tax deductible donation but in addition to your ticket, we ask that you consider donating a H.E.L.P. Bag. These are items that will be distributed while we are engaging those in our outreach work. Bring one to the event and be entered to win a fun door prize! H.E.L.P. Bag description below. Thank you for considering this event and hope to see you there!
H.E.L.P. Bag includes: small washcloth, bar of soap, travel size shampoo/conditioner, travel size toothpaste/toothbrush, travel size deodorant, comb, razors, personal size Kleenex, chapstick, Q-tips and Band-Aid's.